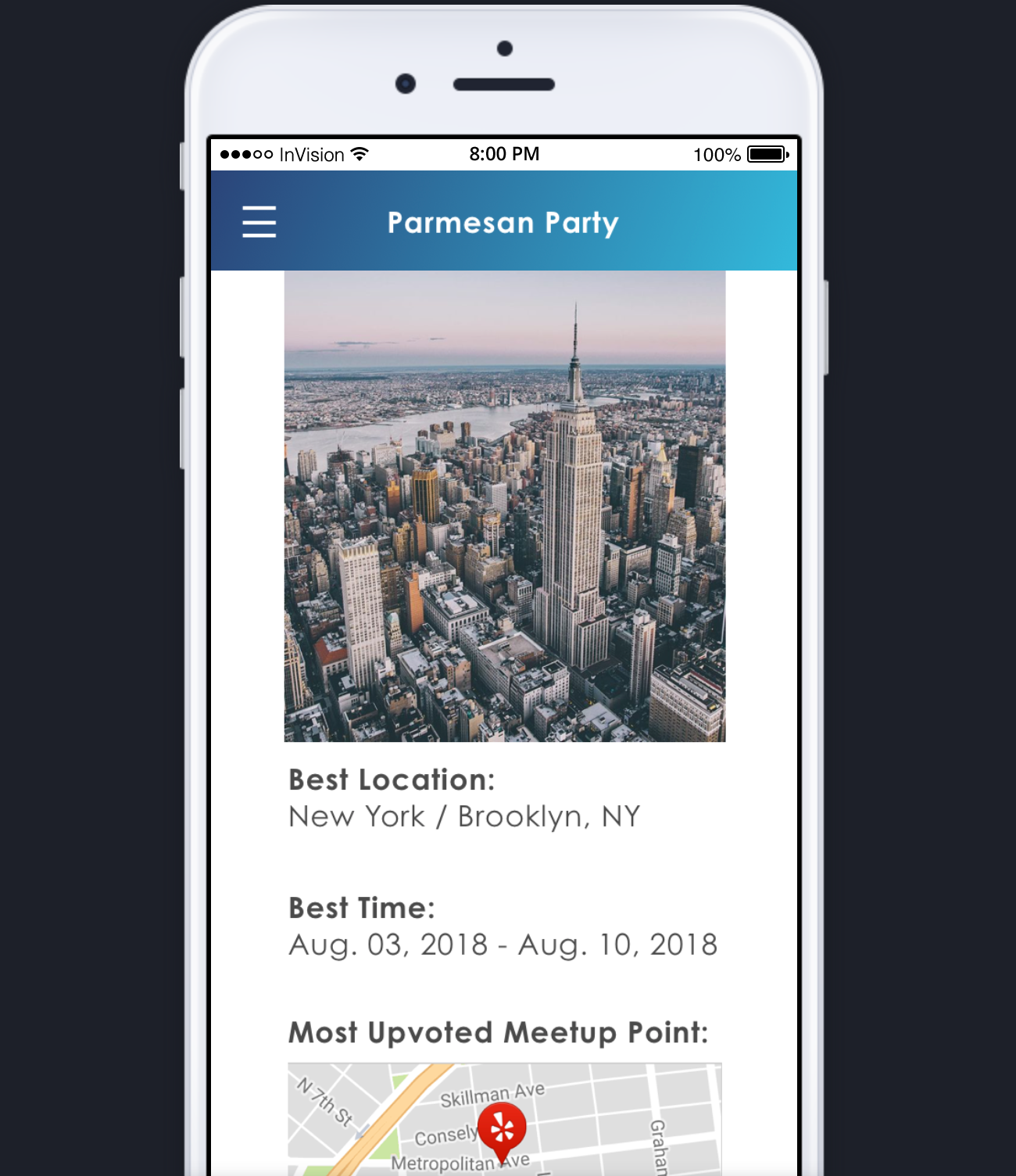 A Sales Force Design Challenge |
Time

Limit
2.5 hours
The Problem & Assumptions


Young Professionals need a quick and solid way to decide on a time and place for a reunion with old friends world-wide. Yuppies are often too busy to reply promptly, dealing with life, family, school, and/or careers. They are hesatent to make any commitments and may take up an unnesseary abbundance of time to make up their mind on both replying  and recieving ends of an invitations and plan-making.
In the new age, options are plenty and usere's will become overwhelmed and indecissive in selecting a location, venue, or resturant. 
Hypothesis


Instead of waiting around for other people's reponses this product will work with the user's time frame, distance, and availibilty. By working in favour of each user, this app will generate a fair list that will caliculate every participants preference anonmously based on gps location, calander, and in the future their yelp reviews. This will achieve less time in planning and less indecissive behaviours. 



WHAT IS THE MVP?


A mobile product that generagates a group of participants and roulettes three sensible options of time and place that will make everyone happy.
Features for MVP


*Event Creator: Facebook / Email Login (For Contacts), Guests can invite other guests?
*Location Selector (GPS)
*Calander (GPS)
*Travel: Yes No? > Yes? Budget?



PRIMARY PERSONA: JALENE KANG


Age 33, Product Manager, San Francisco, Ca
Painpoints: She deals with a lot of indecissive friends. She is upset by people who cancel last minute or don't respond to Facebook invites in time.
She often waits on others and is very bummed out when she wastes her own time waiting and end up not doing anything.
SECONDARY PERSONA: DAVID DUBOIS


Age 30, Lawyer, Philidelphia, PA. 
Paintpoints: David is a very busy yuppie. Over worked so he often forgets to reply to people's texts, e-mails, e-vites, and Facebook messages.
USER TASKS


CONNECT WITH FACEBOOK > CREATE AN EVENT > ADD FRIENDS via FB OR E-MAIL  > Allow Guest to invite others? >  LOCATION SUGGESTION MAP or  SELECT ALL THE CITIES YOU LIKE > Select Date Preferences > Send Invites
https://invis.io/BCDL9OE9X