FEATURE, UX & PRODUCT DESIGNER
UI design, interaction design, rapid prototyping, information architecture, A/B testing, marketing, growth and user research, metrics & analytics, strategy, content strategy and guidelines, web rebrand, product / project management, feature validation.
My RoLEs, Actions & milestones:
• Lead a team to design & develop engaging content end to end from ideation to successfully shipping a full e-commerce experience for web to mobile responsive.
• Conducted usability studies to generate new goals and procure new learned data. Conducted user interviews to provide research and design direction, as well as developed and fine-tune personas.
• Created 20+ documentation for company collateral: stacks, design specs, guidelines, and content. Conducted user research. Implemented launch strategy.
• User feedback suggests a 100% customer satisfaction rate with the new launch.
• Analyze user's checkout and shopping behaviours with analytics, surveys and interviews. Comparisons suggests impact and improvement by 20%-30% in conversion rates, and revenue up to 8 mil within Q4.
Online-LED-Store is due for a make-over. With the introduction of general automotive accessories, Online-LED-Store is not only selling "LED"products anymore. This re-brand is needed to expand with the evolution and survival of this company. While the current customers are business or independent professionals outfitting work or emergency vehicles for their own pleasures, we need to explore a general and friendlier brand & identity to broaden interest for customers to come. We have to let our shoppers know that this brand is the best for certain qualities (if not quality then price-point). Our shoppers have to believe that our shop is the safest bet, and safest choice for LED lighting and other LED related automotive products.
Our shoppers, these dude/dudette-next-door types want to feel safe, guaranteed and ensured that their purchasing product was the right choice. Many of our users are volunteer medics or firefighters. They want a fluid and easy experience to save time and streamline their decisions making process.
     Many dislike or do not care for new web design trends. They also felt bombarded by many e-commerce sites with too many options, visuals, stating "it is annoying and disorienting." Safety and Emergency workers need the direct route. Half of our users have little experience shopping online. The older version of the website felt overwhelming and slightly dated in screen flow and information architecture. Content did not address the honest, down-to-earth, and trustworthy interface and interactions for these Good Samaritans to respect.
Problem 1:
Drop-off rates before check out completion
Problem 2:
Low user engagement. High drop-off at homepage.

Problem 3:
Most users prefer purchasing our products from our Amazon shop.
PHASE 1:
Product Attributes | Priorities | Research | User Profiles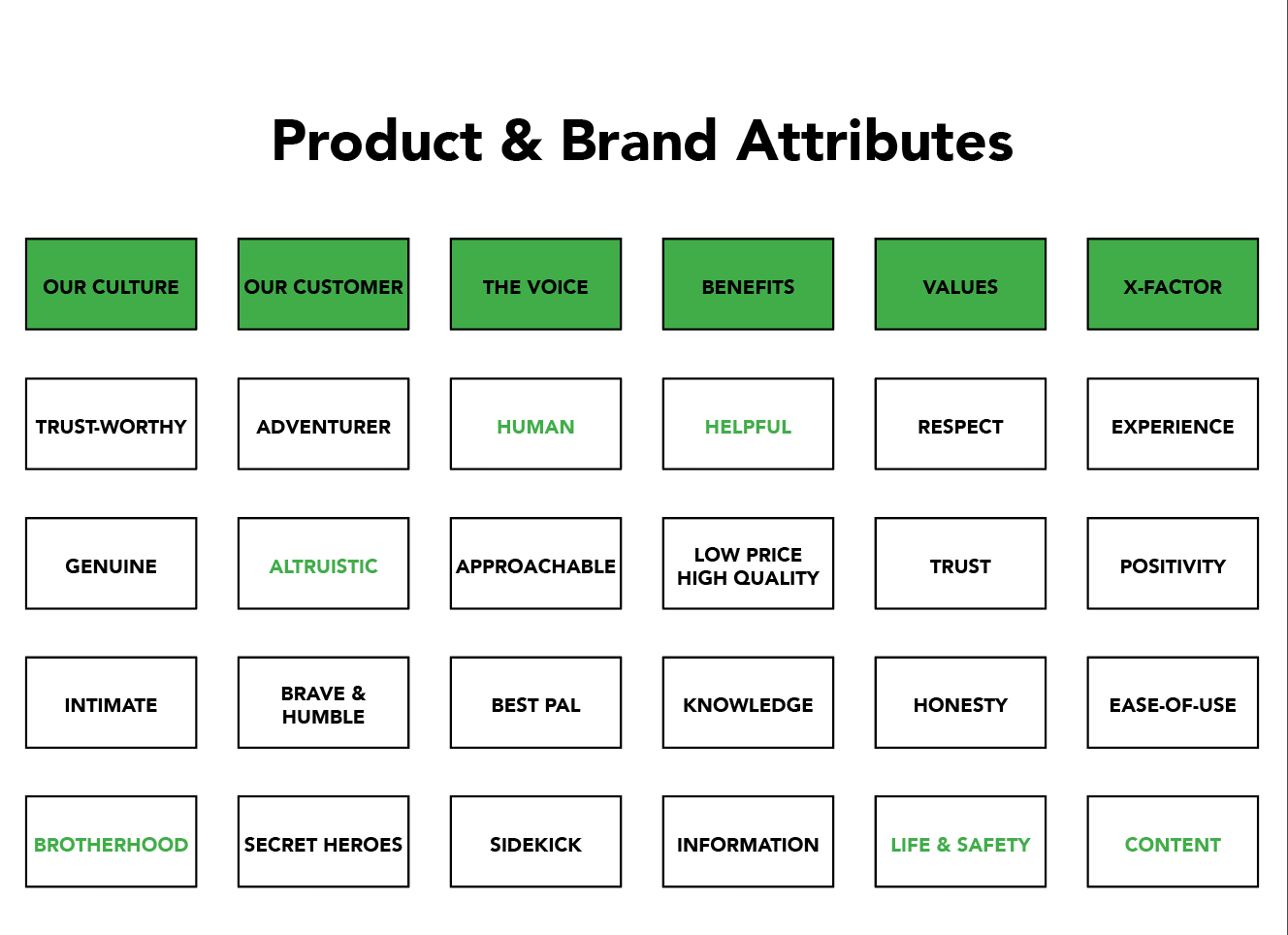 HYPOTHESIS 1: 

Although sources suggest forcing and locking a customer into checkout would  lessens drop-off rates, I want to challenge it. It seemed like black UX—it seemed wrong. Based off our indifferent and tight customer demographics without proper care and attention it could hinder the online shopping experience. Amazon uses a method of fading out options at checkout but we still need to keep a consistent look & feel so we don't alert and unease our customers at end of the purchasing task-flow. Our current flow from shopping to checkout needs to be closely analyzed and tested by our target users.  
     By ensuring the customers their safety while addressing whatever concerns they may have before hand, before the checkout process, we will achieve an approximate 10% increase of completed orders. We will know this to be succesful when we see a slight increase of checkouts rates and/or drop-offs closer to completion through comparisons of click-tracking and analytics.
HYPOTHESIS 2:

By cleaning up the homepage we will encourage the optimization of navigation, allowing users to explore other areas of the site. Making the entire site feel safe, comfortable, and easy to navigate through visuals, content, and information architecture, we will achieve a less stressful and overwhelming e-commerce shopping experience. Doing so we will achieve lesser drop-off rates after our landing on the homepage. We will know this to be true with an increased engagement rate.
HYPOTHESIS 3:

We are not trying to compete with our Amazon shop. So we need to distinguish certain use-cases to separate our online presence and Amazon store. Amazon is already a top preference for usability which is trusted by the masses. It provides a general yet predictable pleasant shopping experience.
     We need a better on-boarding process for users to sign up or sign-in to the OLS shop. We need to integrate deals, bundles, wholesale options, blogs, news, hot items, and coupons to our product. We will be benefiting from the separation of the two shops instead of competing with each other. Amazon's convenience attracts to some customers while other folks may benefit from and be more satisfied with our personal shop. We will know this to be true when we see improvement in sales.

Research Goals:
Discover problems dealing with the current OLS website while better understanding our user's everyday work, personal goals and motivations, what they need and why they need it, and what pains them.
Audience:
A diverse pool of recent OLS users. Location doesn't matter as much but age groups should be divided to track time and progress.
Methods:
• Company Assets: Internal Stakeholder Interviews, Customer Experience Insights, & Google Analytics
• 2x Customer Surveys
• 5x User Interviews
Hypothesis:
• I suspect major drop-offs due to unpleasant flows and visuals that may be hindering the completion of checkouts.
• Professionals desire to shop on a trustworthy and simple website to get what they want quickly and clearly.
• Individuals desire to shop best prices and deals, with clear specifications and details with smooth navigation.
User Task:
Shop! Search and learn about products, inquire about products for hobby or professional needs.
User Goal:
Be content, and satisfied with their purchase—knowing they had enough content for their research and discussion making process.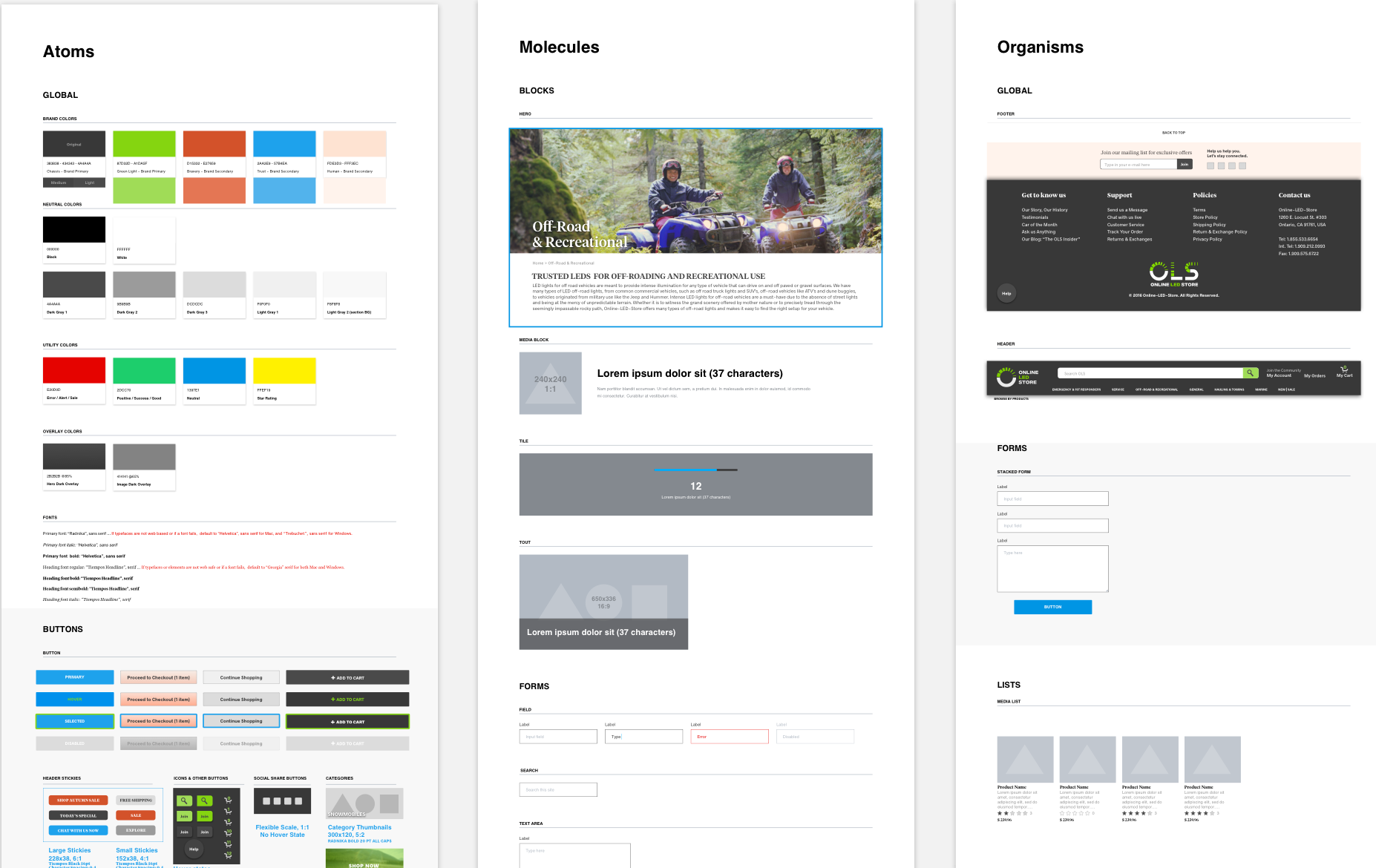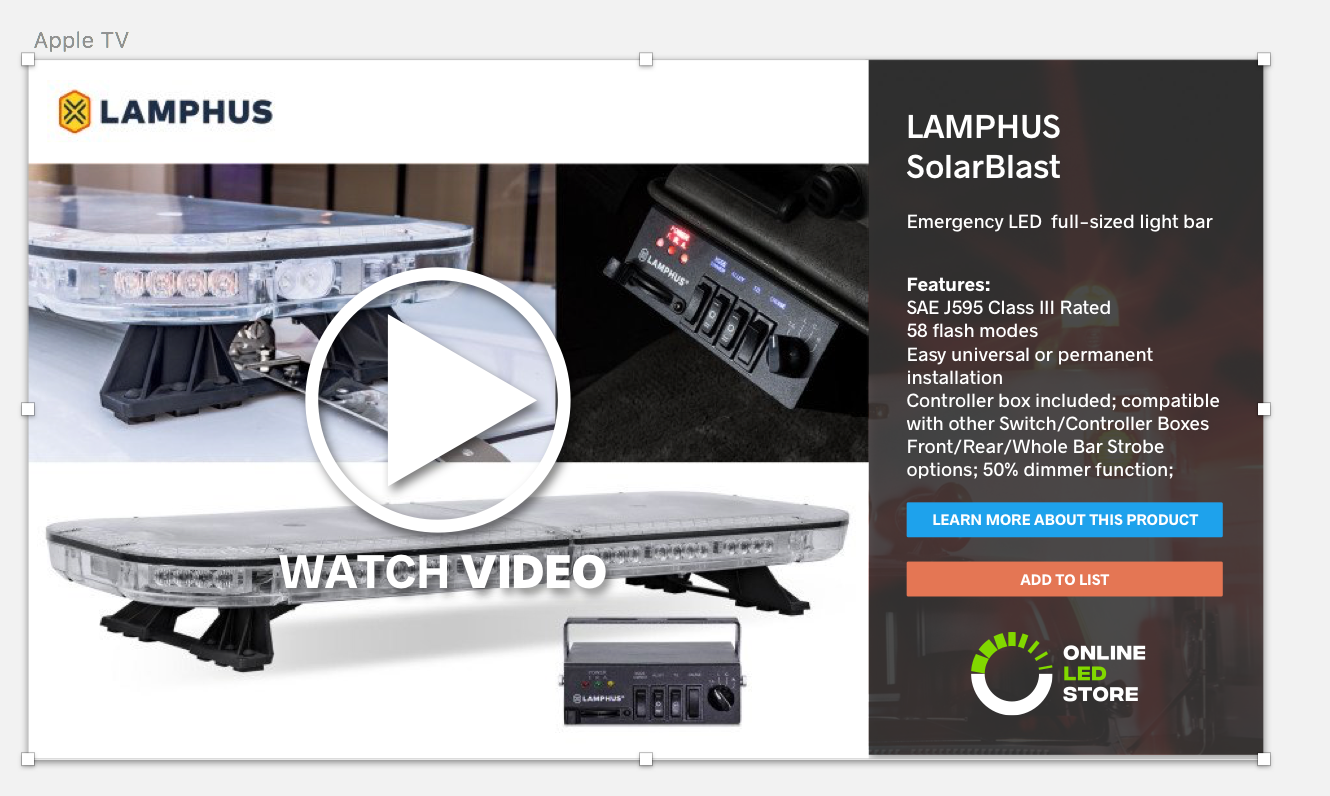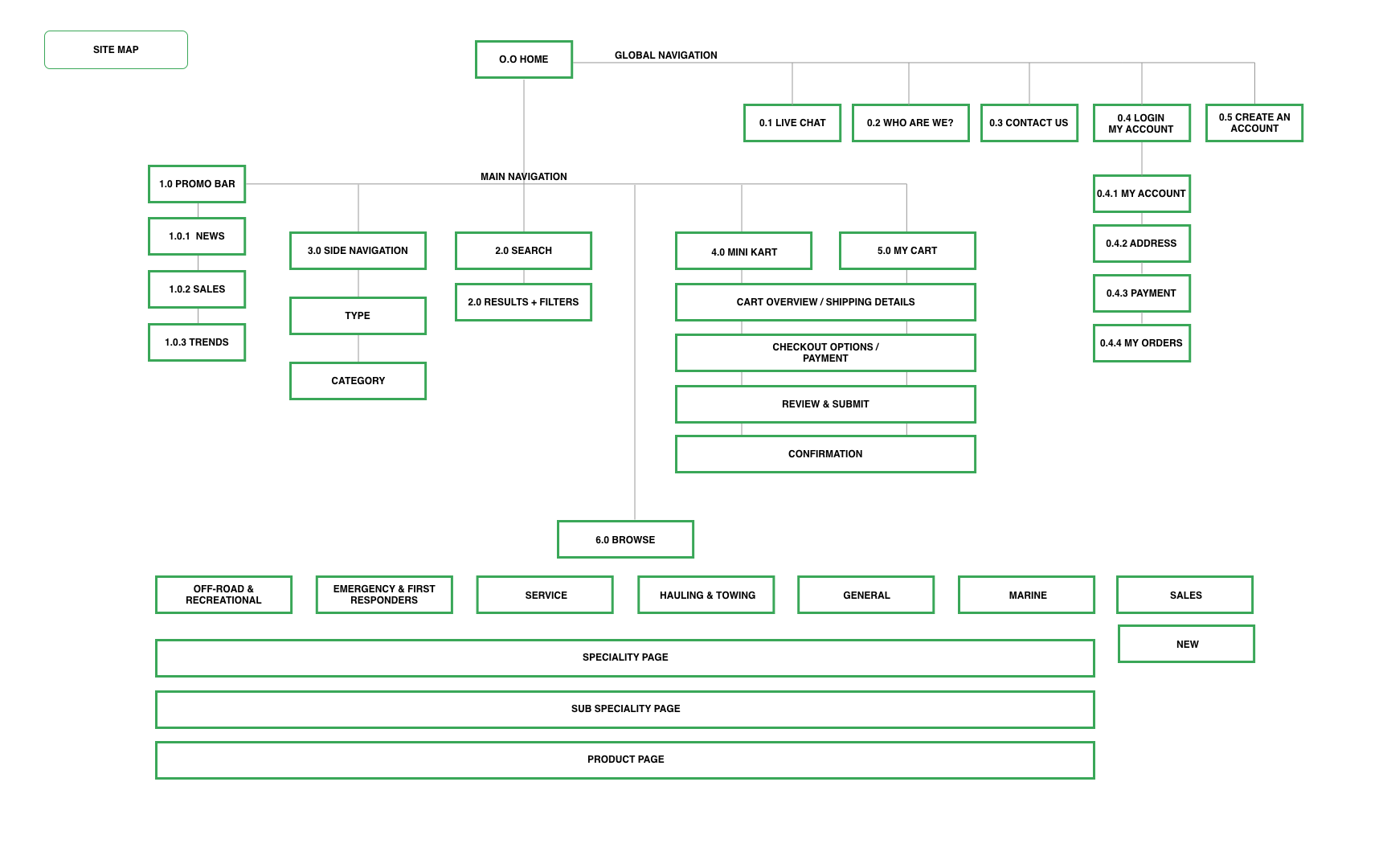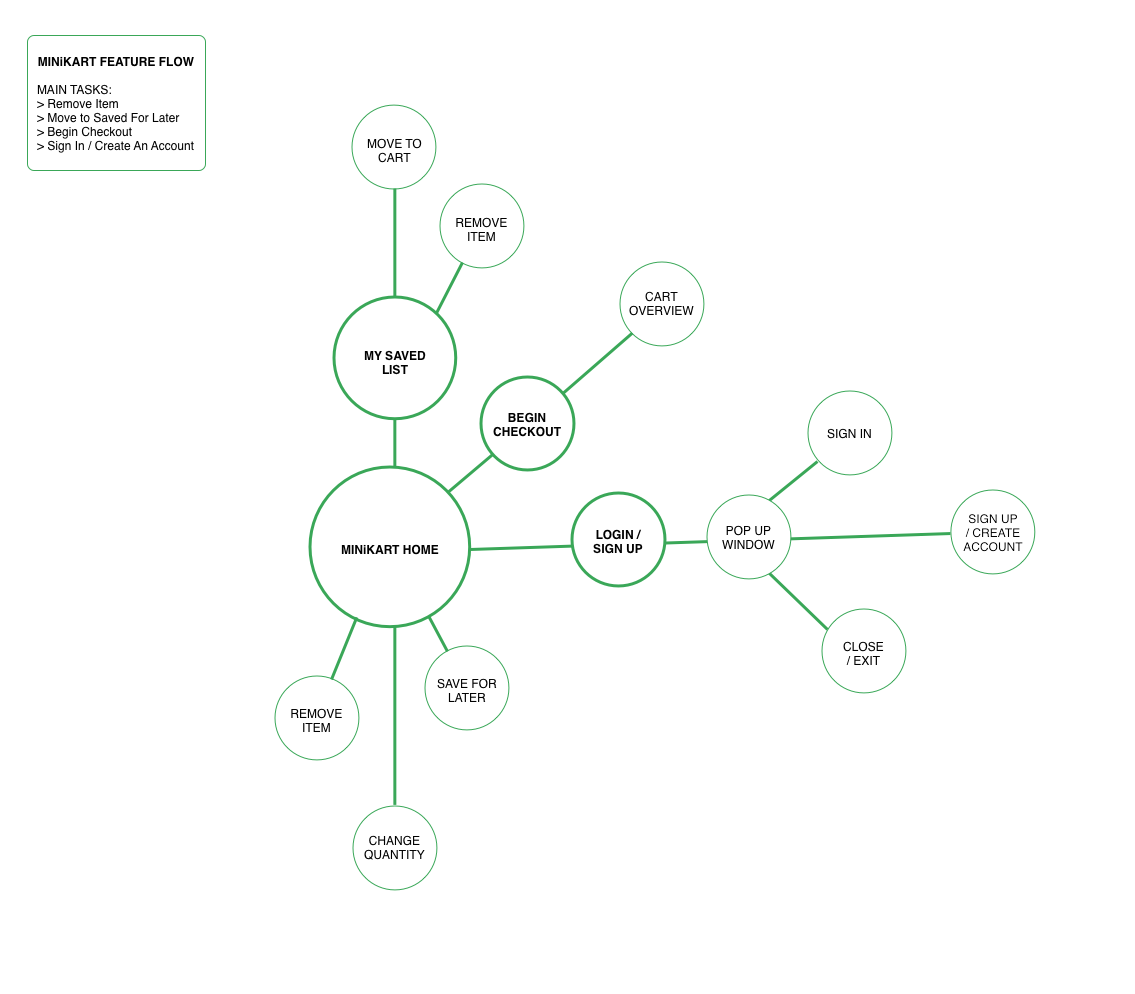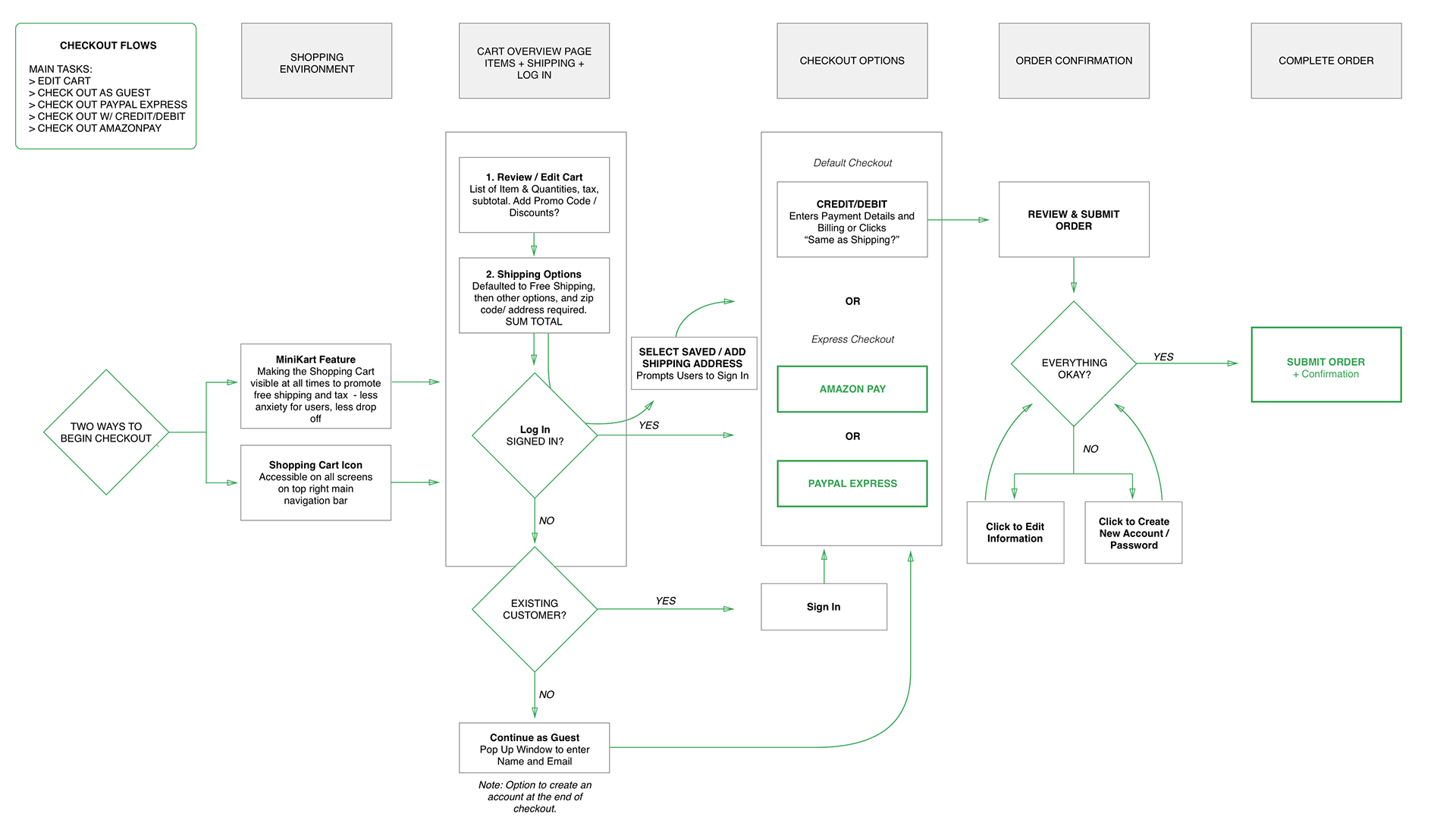 Deck Documentation Example

Example Photo & IMAGING Guidelines